Obligatory disclaimer:
I'm an employee (on furlough) at Frozenbyte, but I don't work in the design department. What follows is written purely for my own enjoyment, and does not reflect the ambitions or inclinations of the development team: This is
not
a feature in design or development.
It should also be noted that this concept was founded on the presumption that complex company/station management controls, inventory controls, station factories, and other related gameplay will exist at the same time. The implementation of some additional systems will also almost certainly be necessary, such as market orders, detailed station permissions, and the advanced station cluster/nation-forming features.
------------
​
Research was conceptualized in part as a form of crafting tutorial to guide players through an otherwise unordered sea of crafting options, and was intended to work in conjunction with station building to efficiently complete the research tree. Unfortunately, this did not happen, and players have routinely criticized the system for numerous reasons: Namely, its unusually lengthy time investment, for gating a significant portion of content, and for introducing personal character progression which seems to be at odds with the rest of the game design. As a related topic, player stations have received substantially less criticism, but concern remains as to what extent a station will play in a universe that is largely uniform and which assigns little unique value to an individual station.
Research - or more broadly-speaking,
some
form of charted progression - isn't entirely without benefit, as it can encourage cooperation among players and provides some reward in return. However, any implementation should focus on providing a common goal with a shared reward, instead of a begrudging cooperation as a last resort to bypass an unusually laborious process.
TL;DR: Research is un-fun, and stations don't feel important.
Broad Strokes:
This system takes inspiration from the game
Foxhole
, a game that strongly emphasizes player cooperation and complex mechanics for building bases and crafting items. The goal of the system should focus on three central tasks:
Making stations a unique and tangible investment
Facilitating player interaction and cooperation around stations
Underwriting the motivation to attack and/or defend a particular station
Whatever system ends up being implemented, simply making a station materially expensive or laborious to create is not enough to make them worth engaging with; the station needs to be able to return significant value, and not to just the station owner. That said, a massive station
should
require a proportionally massive investment, but it is vital that the gameplay associated with this build-up be designed to avoid excessive tedium by drawing in as many related gameplay features as possible, in order to present options and new pathways to the player(s) while creating their station. In the end, a station that is as functional and renowned as Origin should be possible to create, though it may take substantial effort.
To begin with, three new 'technology progression' trees are created, representing the military, industrial, and commercial facets of a station. These 'trees' can be advanced freely via largely non-linear pathways, and directly affect two notable qualities of the station: What items can be manufactured at the station, and what gameplay services the station can offer - more on both of those things in just a minute. Each station retains its own level of advancement and is unaffected by other stations; advancing through the progression trees unlocks the related perks only for the station upon which the advancement was performed, and other stations owned by the same player or which are in the same station cluster will not automatically share the advancement.
These 'perks' are unlocked via
Infrastructure Points
(pending term tbh), and each has a certain point cost assigned according to its value. These infrastructure points and what they are invested into are controlled by the station owner(s). The station gains infrastructure points at a slow but constant rate - a base generation rate, which itself could be affected by the environment/locale in which the station is placed, its existing level of advancement, etcetera. To help mitigate the 'hurry up and wait' flavor of gameplay, players within the station's zone would also be able to contribute to the gain rate by actively engaging in various activities. For example, mining, building, refining, manufacturing, buying or selling, etcetera, will each add some small fraction of the base gain rate to the station's point pool, up to a preset personal maximum daily contribution.
The intent of this system of point generation is to allow players to affect meaningful progress towards the station's advancement goals, but without needing to go out of their way and grind some throwaway stat or item (eg, AFK crafting), and without necessarily being aligned with the station's interests. This also encourages stations to 'go public' and allow unaffiliated players to utilize their station's infrastructure, shops, or mine/etc. within their safezone, as they not only reap the benefit of increased traffic but also increased generation of infrastructure points. While personal and private stations will (and should!) always be able to exist, this could serve as potent motivation to transform company stations into community centers.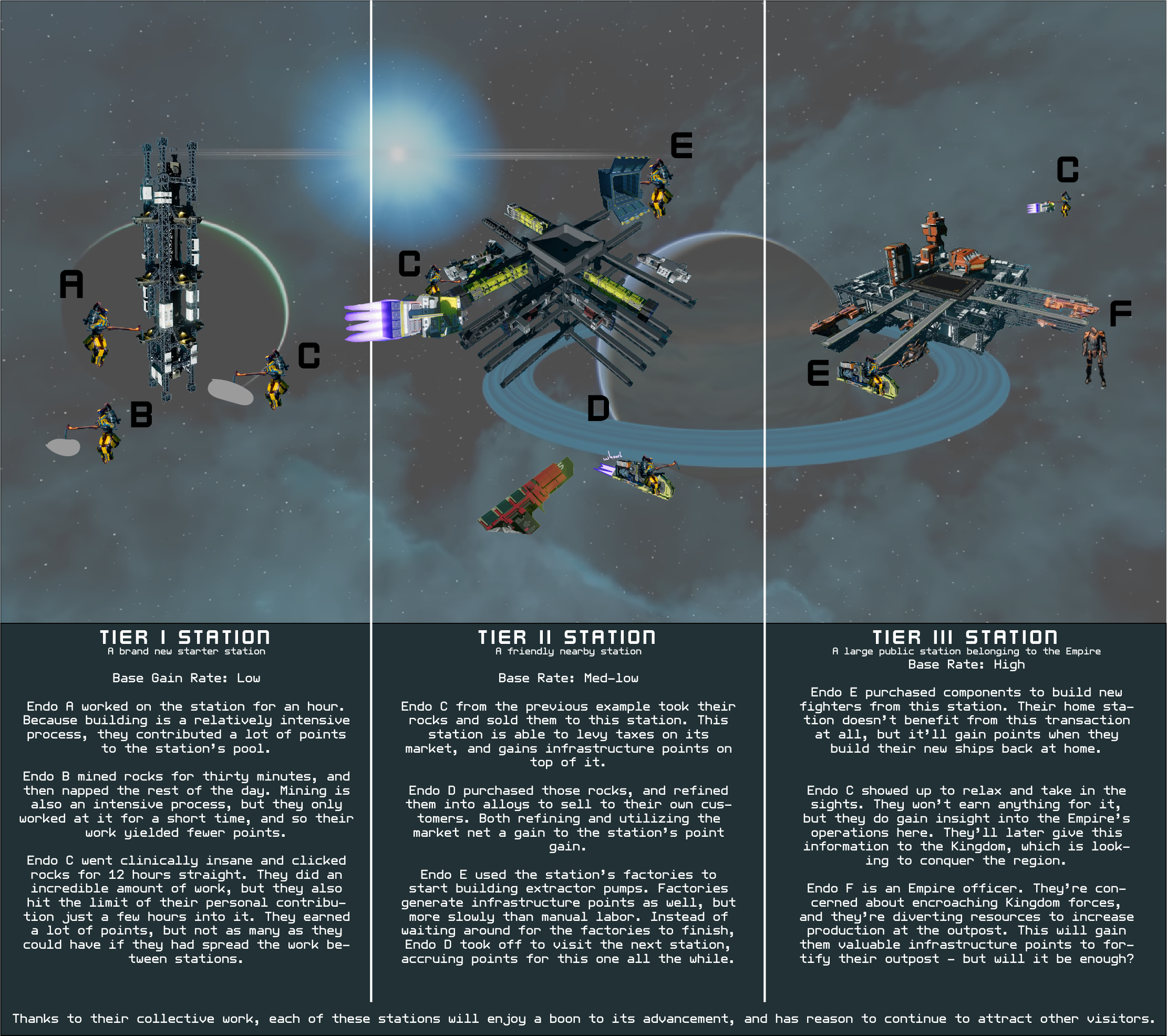 .. As mentioned, each of the three areas of specialization would be composed of numerous station upgrades, and the combination of the three specializations would define the overarching character of the station. Is your station a forward operating base that really only needs to garrison combat units? An advanced manufacturing hub, or a regional marketplace? Each station would be defined by its utility and the opportunity it affords for both the owner and its community, adding immense value to mega-stations while also avoiding inflating the "buy-in" cost for smaller single-focus or disposable stations.
Upgrades:
As before, I don't claim to understand the intricacies of game balance - or design.. or anything, really - but what follows is a non-extensive and unorganized list of what I considered to be viable station upgrades. I've tried to avoid gating too much content, and instead focused on extensions to current or planned gameplay. Additionally, many of these could (and even should) have related physical infrastructure that must be constructed on the station in order to function.
Commercial Upgrades:
Transponder Controls: Public or private transponders, ranges, etc.
NPC Stores: Shop panels like those at Origin, except run by players.
Auction House: As an upgrade to the above. This could be localized to the cluster, or not.
Contract Boards: Game-enforced contracts have been detailed before, and this would grant access to that feature at a station.
Tax Control: Grants control over the station's tax system, allowing players to profit off of activity at their station.
Insurance Points: Grants respawns, without using an endokit (during peacetime, at least).
Supply Lines: Automated and routine capital ship convoys between any number of predetermined stations. Players would still need to provide and load the capital ships, but the travel would be taken care of automatically.
Territory Control: Leaning into the station cluster/nation-forming gameplay, these would grant access to tools and functions used to group stations and establish nations.
Warp Infrastructure: Publicly accessible capital ship docks/warp points, and eventually even a warp gate could be constructed.
Military Upgrades:
Ship Refit Services: Ship loadout swapping, etc.
Watchtower Sensors: Grants a chance to detect ships within a certain radius of the station. Could come in passive/active versions, the latter of which is stronger but makes the station itself more readily detectable by radiation scanners or even other stations.
Stationary AI Defenses: Super basic pillboxes that engage non-allied ships during sieges.
Barracks: Allows company endos to spawn at the station without having an insurance transfer point set.
Tactical Map: Working in conjunction with the planned world map, this would allow companies to organize defenses, patrol routes, idk other stuff, on a detailed 3D map of the station and its immediate surroundings utilizing map markers/grease pens/etc.
Fortified Defenses: Small boosts to the armor/durability of station infrastructure.
Automated Repair: A slow repair-over-time feature which utilizes stored resources. Automatically suspended during a siege.
Offensive Capabilities: This is a bit of a pipe-dream, but I've always thought it'd be cool if stations could actually participate in the siege of other nearby stations as a sort of artillery emplacement, like a gigantic mass driver that can be fired every few minutes.
Industrial Upgrades:
Production Efficiencies: Individual efficiency and speed upgrades for all types of plants (factories/recyclers/gas extractors/repair bays/etc)
Crafting Recipes: Unlocking a crafting recipe would allow anyone who - with the requisite permissions granted - visits the station to utilize that recipe with the station's factories/related devices. They should probably be grouped a little more generously, though.
Stat-boosted Variants: Crafting recipes could be enhanced at great cost, yielding upgraded versions of existing devices (weapons/generators/etc.) when manufactured.
Station Inventory Upgrades: At the most basic, these could expand the station's inventory capacity and yield selective interaction with the inventory without the use of conduits. They could also interact with those power/gas grid features, if those are still a thing.
Asteroid Drop-off Zones: Fairly self-explanatory.
Mineral Scanning: Imprecise scanning of the surrounding areas for hotspots/gas clouds/etc.
SSC Hall Upgrades: These got added to hangar halls a while ago, but I suppose there's nothing to say that can't be reverted
Propellant/Recharge Stations:
Ship Insurance Point: This would enable a station to automatically reconstruct ships in the long-awaited ship insurance system, or retrieve ships lost within the station's safezone.
Material Compression: Allows the manufacture of ultra-dense resource cubes, enabling more efficient shipping.
.. And again, I want to emphasize that this is not an extensive list of options: there are many more upgrades that could be explored here (and in fact, this system would certainly need a pretty extensive set), and they could all be further expanded with distinct tiers. I also think it'd be interesting to add additional requirements to the best of them. For example, warp points/gates could have a requirement that your station has X number of unique visitors per month in order to unlock it, or the auction house would only unlock after your station facilitates enough substantial transactions between unique individuals (or levies X amount of tax, etc.).
I've bashed together a quick example of a commercial upgrade chart, using an assortment of upgrades that
could
be possible. Note that this isn't meant to be a final product, but is intended only to show an example of a non-linear pathway.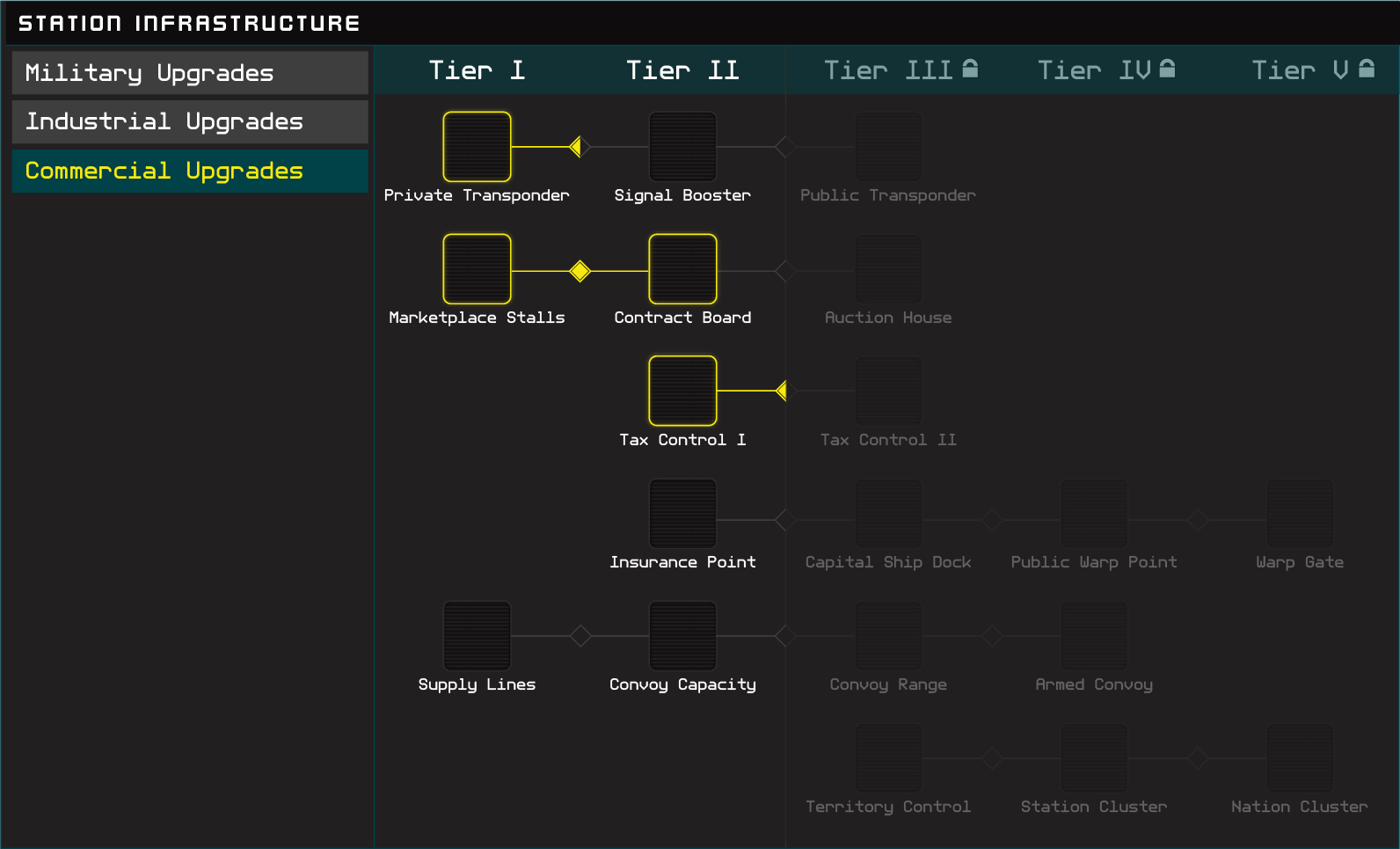 Fine Details:
Crafting:
In order to make room for such a system, some existing gameplay elements would need to be tweaked slightly. The research tree on the level of the individual player would be removed outright, and player crafting (ie, at crafting tables) would be restricted to basic components such as ship plating, beams, ducts, and structural station blocks. In their stead, additional rudimentary forms of existing devices - such as some form of makeshift generator - could also be designed and made craftable at a bench, as these would be ideal for in-field repairs, salvaging, and other gameplay; quality-of-life recipes could also be included, such as those permitting fuel rods to be refilled. These fundamental devices may be crafted without needing to 'unlock' their recipes at a station in order to facilitate the maintenance and construction of ships and stations at a basic level. Beyond this, the intent should be to move the massive majority of manufacturing to stations and factories, eliminating both the bench-centric method of creation as well as the need to idle for long periods of time to craft a ship or other device. If necessary, Origin stations could offer some manufacturing services for new players and for those with no other options.
Note
: It's possible that crafting benches aren't totally at odds with factories, assuming that the latter can be leveraged for mass production. Personally, I dislike the idea of crafting 'advanced' things out in the field, and I would prefer that factories and the like be the go-to, but that's a debate for another topic.
The intent here should be to gently push new players either towards a company and their station whose factories they can readily utilize, or to some other publicly accessible manufacturing. Failing that, the Origin stations could offer some volume of manufacturing capability for all players, with some limitations on the production quantity or the recipes available. There is a fine line to tread when gating content, and ultimately I prefer the carrot to the stick here; that is, persuading players to 'move out' from Origin by offering cheaper crafting, etc., over totally preventing them from crafting anything at all.
Timeline:
In my opinion, these sorts of upgrades should be on an increasing scale as far as total time investment. The earliest upgrades might only take a short while (especially the crafting recipes), but for 'end game' upgrades like warp gates or AI defenses, it would likely take weeks to accumulate the infrastructure points needed to unlock them. I'm not a balance designer, though, so take this with a grain of salt.
Point Boosts and Caps:
The system for generating points is perhaps a bit unusual, but I think it's necessary for two reasons: Firstly and most obviously, it controls the pace at which the upgrades can be unlocked, while also offering an avenue to meaningfully affect that pace; secondly, it sets an upper limit to how
much
an individual player can affect the process via the added gains. It is initially tempting to uncap that personal contribution and allow players to endlessly gain points for their stations, but I worry that this would be designing gameplay that encourages - if not outright demands - burnout. By setting an upper limit, players have a routine and attainable goal, and won't be made to feel like they're falling behind if they're not spending every waking moment grinding out upgrades.
Upkeep:
I'm of mixed opinion on this, but without upkeep costs I worry that stations will eventually proliferate and lose value over time (plus, it'd prevent pump-and-dump stations).
If
a form of upkeep is necessary, it would suffice to make each upgrade also consume a certain amount of infrastructure points per time period (although I do sorta think it could be interesting to experiment with tying a degree of material consumption into it). This would naturally be less than the buy-in cost, but significant enough that a fully-upgraded station would actually need to justify (and support) its own existence. Failing to meet upkeep requirements could simply re-lock upgrades in the reverse order of their acquisition.
It's also possible that the upkeep points could be generated via, for instance, excess electrical power generated by the station. This would help facilitate some low-activity stations like forward operating bases and personal stations.
Why This?
Unfortunately, there aren't many ways to assign unique value in a sandbox like Starbase apart from time
,
and time-sinks are nobody's favorite. However, the worst parts of a time-based system can be mitigated by reducing how much active attention its design demands from the player, and by periodically providing meaningful rewards for engaging with the system. Utilizing timers (in the sense of infrastructure point generation) in a fair way frees players to engage with other parts of the game while waiting, instead of idling or something worse (like AFK crafting :x), and is one of the few ways I can think of to lend appropriate gravitas to a siege: Motivations are low for both the attacker and the defender if they can set up a mimicry of the station within a few minutes and avoid excess loss - excepting for the sake of combat itself, which can be a strong motivator for some.
The way I see it, there are only a few things that will contribute to a station's unique value in Starbase:
Its location relative to other points of interest (resources, other stations, warp gates, etc.)
The value of the services it can offer (markets/factories/spawning/etc.)
The 'culture' value (eg, the community that actively hangs around it)
However, Starbase's 'geography' is largely samey wherever you go (even in a redesigned belt of hot spots), and since eventually companies will have amassed enough material to print complex stations like hotcakes - doubly so after station blueprints become a thing - I have a hard time imagining that (without such a system) any station will actually stay relevant for long enough to develop a thriving community around it. As a pointed example: The only Origin station of any real significance these days is 02, and that's because new players are funneled to it; each station is spatially separate but identical in nature, and because of that, none of them have any unique value to a player. Additionally, capital ships currently have little distinction over a player station, and the benefits of being mobile will likely outweigh any advantage a static station will net.
Even with a system like this, it's arguable that it'll only be a matter of time before there are numerous 'fully upgraded' stations throughout space. This is unavoidable, but I don't think that's necessarily a bad thing either. A fully-kitted station
should be
a crowning achievement, and by pushing players to cooperate and interact around the same station(s), and invest their time and effort, I think it's very possible that some form of 'real' gamer culture - the stories, and the bonds between players over a history of conflict around their station(s) - could be organically cultivated in-game, and that's something that you can't make at a crafting bench.
Last edited: