After a hundred hours in Starbase and participation in two tournaments and several unofficial matches I believe I have found what makes combat so difficult and un-enjoyable. The issue is
Acceleration,
it's much too fast, all ships easily go from 0 to their max speed in barely one second. This includes ships that can go at 150m/s. I think most CA testers would agree that combat is far too latency and luck based (also somewhat do to keyboard aim instead of mouse). But the main reason for this is that ships can turn on a dime and instantaneously change direction making target tracking and prediction nearly impossible. The solution? Lower space drag and thruster acceleration. This will make ships drift more and give the controls much more of a space feel while still being nice to the game engine. Here is a rough graph to show the issue and my solution:
red is old acceleration
and
blue is my proposal
(right axis is m/s, bottom axis is time in seconds)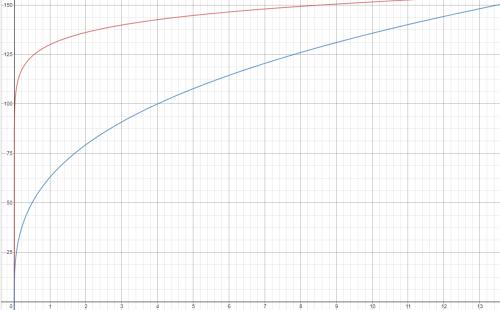 Another thing to point out is that it seems fairly unrealistic that any steel structure is able to undergo 100m/s of acceleration (10g!) without getting crushed like a tin can. There is a reason other then astronaut safety rockets don't accelerate that fast.
( if this would better belong in a CA thread then I'd be happy to move it I just can't seem to post there)