SHIP SHOP SUBMISSION INSTRUCTIONS

Players are able to submit an application for their own ship shop in Starbase Early Access. There are two types of ship shops, a small and a large one. For both of these there are five different themes from which the players can choose the visual style for the shop. The shop name will be displayed on a sign in all shops. Player or a company has to have at least half of the required ships approved when applying for their own ship shop. Ship Shop submissions are done via the in-game Feedback Tool (F1), under the
Ship Shop Submission
tab.
This post covers:
Ship shop requirements
Submission form and process
Shop themes
Shop updates
Please read all the instructions carefully before submitting a ship shop, to avoid any mistakes that could lead to unnecessary delay with the shop submission.
SHIP SHOP REQUIREMENTS

📢
NOTE!
All ships that are to be added into a shop need to be submitted via the Ship Submission form (F1) and need to be approved beforehand.
The forum post on how to submit your ship designs can be found
here
. You can message a community manager if you are unsure about the status of your ship submissions!
SMALL SPACESHIP SHOPS:
Room for 5 small and 5 medium spaceships. Bigger ships require a large shop.
Any player or company with at least 5 small / medium approved ships can apply for a small shop.
Each company can only have one small spaceship shop.

If you plan to produce a large amount of spaceships, or are interested in creating big ships, please request a large shop instead!
If you have a large shop and want to apply for a small shop afterwards, we can't promise that said request can be granted
LARGE SPACESHIP SHOPS:
Room for the following ship sizes:

10 small
7 medium
3 large
2 x-large (Currently one x-large area can be reserved for 2 large ships)

Any company that has 10 or more approved ships that match with the size chart, will get their own ship shop.
Once the acquired shop has been completely filled, another large shop can be requested.
Here are the ship dimensions:
Small = 10x7x7
Medium = 25x15x20
Large = 35x35x50 (unavailable in small ship shops)
Layouts and ship sizes for small and large ship shop: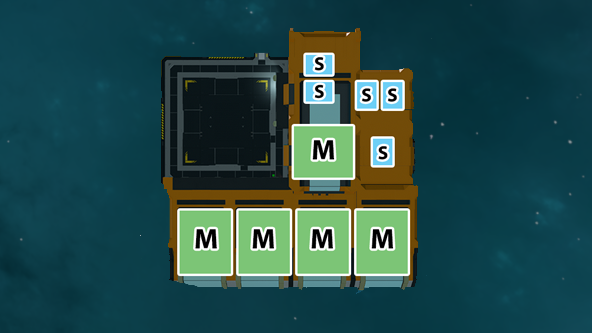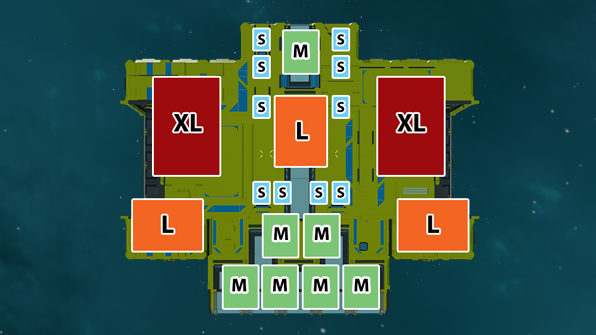 SUBMISSION PROCESS

In the shop submission form, you'll need to input the following information:
Submission type (new shop or an update to existing one)
Company/shop name
Shop size (small/large)
Shop theme
List of ships
Optional additional information, e.g. particular ship placements
Contact person's Discord tag
For the ship placement layout you can refer to this map by Okim: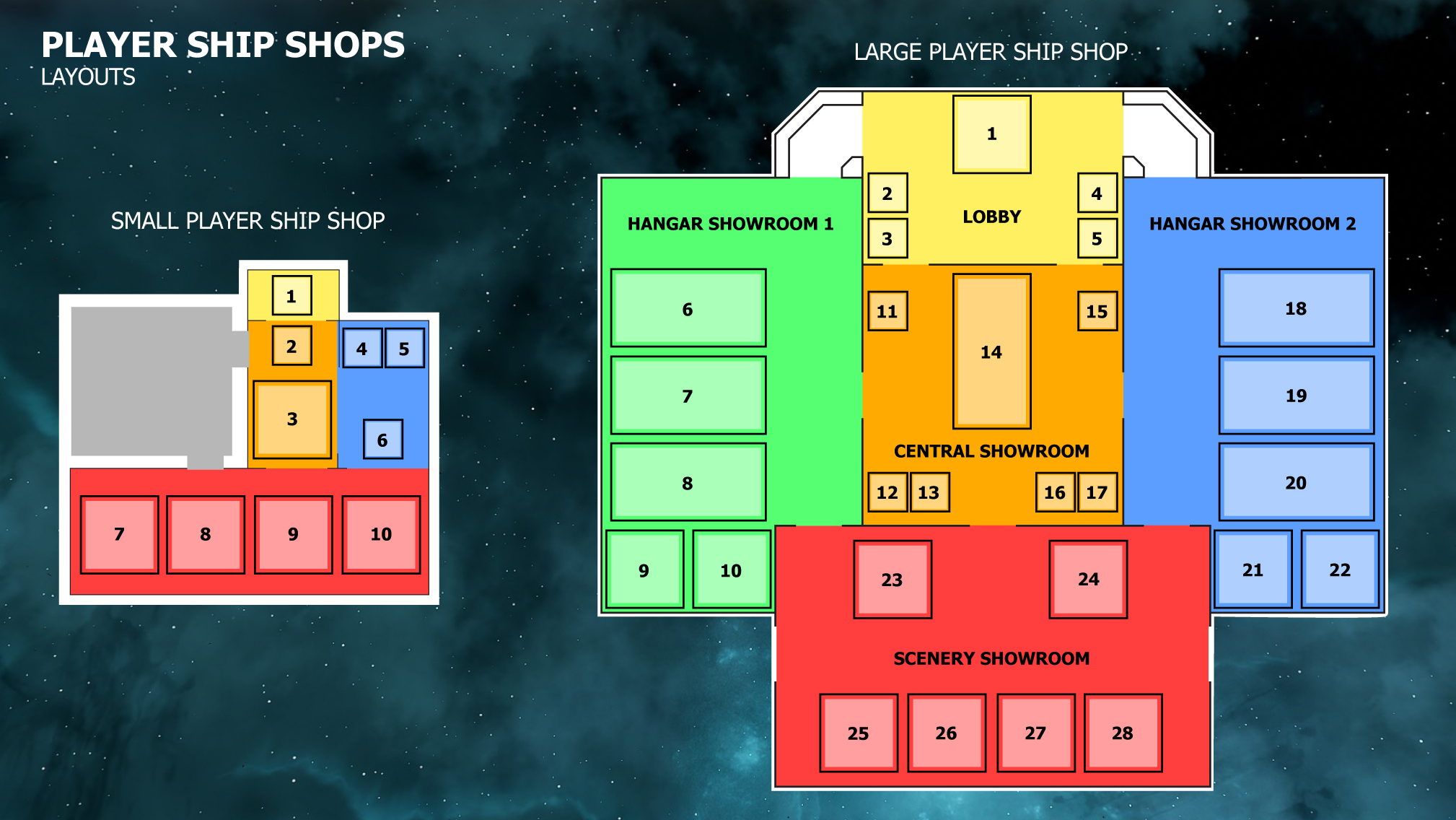 You can refer to a specific spot by their number and mention what ship you'd want placed there. If you don't have any preference, we will choose the placement ourselves. Note that we reserve all rights to change the placements, in case the ships aren't the correct size to put where requested.
SHOP THEMES

We have five different themes for the visual style of the shops. These are for both the small and the large ship shop. The pictures below show the themes on a large ship shop.





SHOP UPDATES


Players can submit updates to their shops. These include: removal of a ship in the shop, addition of a new ship and updates to the ships currently in the shop (note again that you need to submit the ships via Ship Submissions first).
You cannot change the placement of individual ships, or the shop theme with the update form.
Be aware that the updates will not appear in the game instantly, as all changes must be included for a upcoming patch.

It is important to note that the submitted materials for ship shops might not be implemented into the game as provided. We reserve the right to change applications to better fit the game's regulations and theme. Use of copyrighted material in the submissions is prohibited.
Also, please note that getting the shops into the game can take a while, so please be patient!